Indian Head $10 Gold Coin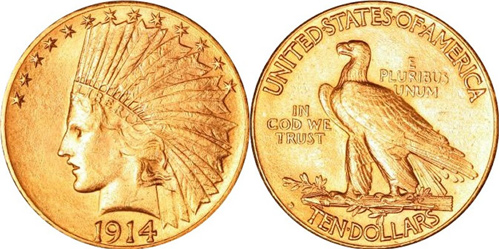 The new gold coins of 1907 were the result of the unprecedented collaboration of a great sculptor and a dynamic President. Awed and even frightened by the youthful Theodore Roosevelt's bounding energy, Republican Party leaders in the 1900 campaign had hoped to corral him in the largely ceremonial post of Vice President, while giving the Presidency to less vigorous William McKinley of Ohio. McKinley's assassination at the opening of the Pan American Exposition in Buffalo, N.Y. in 1901 hurtled Roosevelt directly into the White House—with far-reaching effects.

Roosevelt was so pleased with the work Saint-Gaudens did designing his official presidential inaugural medal that he wasted no time in forging ahead with improving the designs of our two largest gold coins, the $10 Eagle and $20 Double Eagle.
Diameter:
1-1/8" (27 mm)
Weight:
258 grains (16.718 grams)
Composition:
90% gold-10% copper
Designer
Augustus Saint-Gaudens
Engraver:
Charles E. Barber
Mint Marks:
Philadelphia (none) Denver (D) San Francisco (S) - found left of arrows on reverse
Obverse:
ndian head (Liberty) facing left and wearing a full feathered ceremonial headdress. Date (below), 13 stars (above) around plain border. LIBERTY on headband.
Reverse:
Eagle majestically perched upon a bundle of arrows and olive branch facing left. UNITED STATES OF AMERICA (above) and denomination TEN DOLLARS (below) around plain border. Motto IN GOD WE TRUST (beginning part way through 1908) in field to the left. Motto E PLURIBUS UNUM in field to the right.
Edge:
Starred
Indian Head Half Eagle $5 Gold Coin