Liberty Head Double Eagle $20 Gold Coin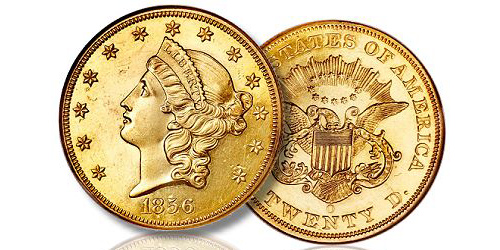 The Liberty Head Double Eagle is an American $20 gold coin first struck in 1849. It was in circulation from 1850 to 1907. The coin was an immediate success by merchants and bankers. Many were melted when President Franklin D. Roosevelt recalled gold coins for public use in 1933, making this a rare gem.
Diameter:
1-1/3" (34 mm)
Weight:
516 grains (33.47 grams)
Composition:
90% gold - 10% copper
Designer
James Barton Longacre
Engraver:
JamesB.Longacre/WilliamBarber
Mint Marks:
Philadelphia (none); Carson City (CC); Denver (D); New Orleans (O); San Francisco (S) found below eagle's tail on reverse
Obverse:
ust of Liberty facing left, wearing a beaded coronet inscribed LIBERTY, surrounded by 13 stars and date (below) around beaded border. Hair is in a bun with curls flowing down to base of bust.
Reverse:
Eagle and shield styled after the Great Seal of the United States. Rays and stars between wings (above). UNITED STATES OF AMERICA (above) and the denomination TWENTY D. or TWENTY DOLLARS after 1876 (below) around beaded border. Motto IN GOD WE TRUST (beginning part way through 1866) above eagle.
Edge:
Reeded
Indian Head Half Eagle $5 Gold Coin