Indian Princess $3 Gold Coin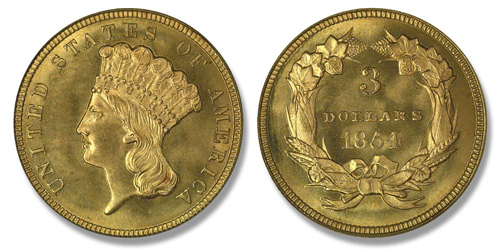 The $3 piece was a gold coin produced in the United States from 1854-1889. The obverse bears a representation of Lady Liberty who is wearing a headdress of a Native American princess.

While over 100,000 were struck, the coin saw little use. It was circulated primarily on the west coast where gold and silver were used to the exclusion of paper money. This coin was last struck in 1889 and Congress ended the series the following year.
Diameter:
13/16" (20.6mm)
Weight:
77.4 grains
Composition:
90% gold-10% silver/copper
Designer
James B. Longacre
Engraver:
Charles E. Barber
Mint Marks:
Philadelphia (none); Dahlonega (D); New Orleans (O); San Francisco (S); (found below wreath on reverse)
Obverse:
"Indian Princess" (Liberty) wearing feathered headdress with a beaded band inscribed LIBERTY surrounded by UNITED STATES OF AMERICA near beaded border.
Reverse:
Wreath of tobacco, corn, wheat and cotton surrounds date/denomination.
Edge:
Reeded
Indian Head Half Eagle $5 Gold Coin