Walker Liberty Half Dollar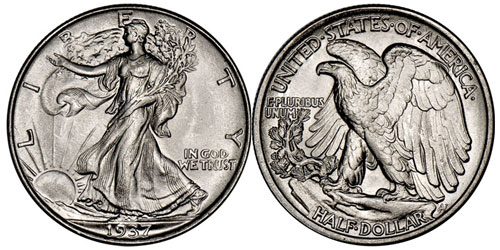 Satisfied with the artistic merits of the previous six design changes, Mint Director Robert W. Woolley once again turned to "outside" talent in search of fresh, new ideas. One of those he contacted was noted sculptor, Adolph Alexander Weinman. Weinman's designs were the winning entries for two of the three new coins (the "Mercury" Dime and the Walking Liberty Half Dollar).

Considered by many to be among the most beautiful of all U.S. silver coins, the Walking Liberty Half met with immediate acclaim and was extremely popular. In fact, in 1986, when The U.S. Mint was searching for a design for the new 1 oz. silver "eagle" bullion coin Weinman's 70 year old Walking Liberty was again the winner!
Diameter:
1-3/16" (30.61 mm)
Weight:
192.9 grains (12.5 grams)
Composition:
90% silver - 10% copper
Designer
Adolph Alexander Weinman
Engraver:
Charles E. Barber
Mint Marks:
Philadelphia (none), Denver (D), San Francisco (S); 1916-17: obverse below IN GOD WE TRUST; 1917-47: reverse lower left
Obverse:
Full length Liberty facing left draped in the American flag striding toward a rising sun holding branches of oak and laurel in her left arm, right arm outstretched. Date (below) and LIBERTY (above) around plain border. Motto IN GOD WE TRUST in field to the right
Reverse:
Eagle with unfolded wings perched on a mountain ledge. UNITED STATES OF AMERICA (above) and denomination HALF DOLLAR (below) around plain border. Motto E PLURIBUS UNUM in the field to the left.
Edge:
Reeded
Indian Head Half Eagle $5 Gold Coin