St. Gaudens' $20 Gold Coin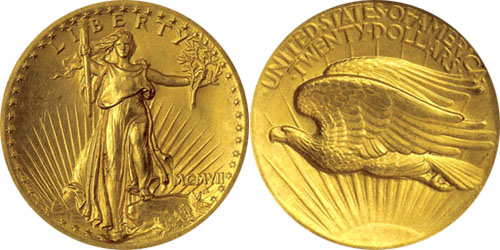 The Saint-Gaudens double eagle is a $20 gold coin, or double eagle. It was produced by the United States Mint from 1907-1933. Considered to be the most beautiful of U.S. coins, the Saint-Gaudens was sculpted by Augustus Saint-Gaudens.

The coin was first issued in 1850 as a response to the increasing amount of gold available due to the California Golld Rush. Due to its very high face value (equivalent to several hundred dollars today) the coin did not circulate. It was often used to make international transactions, in which the settlement was to be in gold.
Diameter:
1-1/3" (34 mm)
Weight:
516 grains (33.47 grams)
Composition:
90% gold - 10% copper
Designer
Augustus Saint-Gaudens
Engraver:
Charles E. Barber
Mint Marks:
Philadelphia(none) Denver(D) SanFrancisco(S)-found above date on obverse
Obverse:
Full length portrayal of Liberty striding forward extending the "Torch of Liberty" in her right hand and an olive branch in the left. Rays(behind), LIBERTY (above) with stars around plain border. Th eU.S. Capitol Building in lower left field with the date in lower right field.
Reverse:
Eagle in flight among sunrays from lower edge. UNITED STATES OF AMERICA and denomination TWENTY DOLLARS (above in two lines) around plain border. Motto IN GOD WE TRUST (beginning part way through 1908) at base of rays, above top edge of sun
Edge:
Stars and letters "E PLURIBUS UNUM"
Indian Head Half Eagle $5 Gold Coin