Liberty Head Half Eagle $5 Gold Coin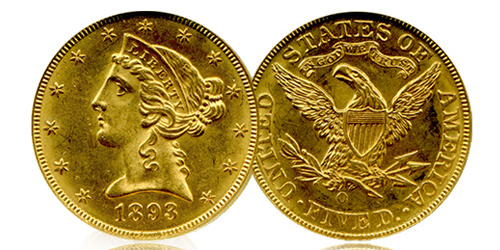 Destined to become one of America's most enduring coinage designs, Christian Gobrecht's Coronet Liberty Head motif grew to be as familiar as the Pillar Dollar or Athenian Owl. First appearing on the $10 gold coin in 1838, it was adapted to the $5 gold coin in 1839 and the $2.50 in 1840.

The Half Eagle is a United States coin that was produced for circulation from 1795 to 1929 and in commemorative and bullion coins since the 1980s. Composed almost entirely of gold, it has a face value of five dollars. Its production was authorized by The Act of April 2, 1792, and it was the first gold coin minted by the United States. The design and composition of the half eagle changed many times over the years, but it was originally designed by Robert Scot. At this time the coin contained .9167 gold and .0833 copper and silver. It had a diameter of approximately 25 mm, a weight of 8.75 grams, and a reeded edge. The obverse design, or "Turban Head", depicted a capped portrait of Liberty facing to the right. The reverse depicted a small eagle. This type was produced from 1795 to 1798. Simultaneously, another type was minted that depicted a larger heraldic eagle on the reverse with the inscription "E PLURIBUS UNUM". This type was produced through 1807.
Diameter:
7/8" (22.5mm) - 1839-40; 17/20" (21.6 mm) - 1840-1908
Weight:
129 grains (8.359 grams)
Composition:
90% gold - 10% silver/copper (1839-49); 90% gold - 10% copper (1849-1908)
Designer
Christian Gobrecht
Engraver:
Christian Gobrecht (1838-44); James Longacre (1844-68); William Barber (1869-79); and Charles E. Barber (after 1879)
Mint Marks:
Philadelphia (none); Carson City (CC); Charlotte (C); Dahlonega (D); Denver (D); San Francisco (S); New Orleans (O); - obverse over date (1839) reverse under eagle (after 1839)
Obverse:
Liberty head is facing left wearing a coronet inscribed LIBERTY. Date (below), 13 stars (surrounding) around beaded border.
Reverse:
Spread eagle holding 3 arrows in left claw and an olive branch in right. UNITED STATES OF AMERICA and denomination FIVE D. around beaded border. Motto IN GOD WE TRUST (beginning in 1866) on scroll above eagle.
Edge:
Reeded
Indian Head Half Eagle $5 Gold Coin